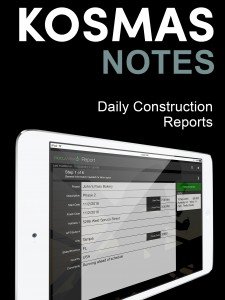 Free and Easy, Kosmas Notes Makes Construction Reporting Simple for iOS Users
Clearwater, FL, November 29, 2016 (Newswire.com) - DocuWrx, a leading provider of project management and custom software solutions, has announced a new free app for phones and tablets available for daily construction reporting, "Kosmas Notes".​
Kosmas Notes allows construction crews to conveniently create notes, take pictures, track equipment usage, number of workers on-site, obtain weather data and generate a professional daily report to document what was completed that day.
With Kosmas Notes, users are able to accomplish a number of tasks more efficiently like recording urgent change orders, creating daily equipment reports, and capturing photos while walking the jobsite. Firms can even generate manpower reports for easy payroll and scheduling thanks to Kosmas Notes. By utilizing this application, construction firms will experience a number of benefits, from tracking daily construction activity and continuous progress tracking to improved data accuracy, optimized workflows and the elimination of paperwork for an eco-friendly workforce.
Kosmas Notes guides you through the steps of quickly creating a daily construction report so users can record project notes directly into a mobile device along with photos, labor, equipment, and change orders. The application then takes this information and transforms it into professional reports that can be saved as PDFs and sent via email directly from the device.
The new Kosmas Notes application is available in the Apple App Store. Download it today and see why crew leaders, project managers, building inspectors, subcontractors, and other construction professionals choose Kosmas Notes for their daily reports!
About DocuWrx
​Founded in 2012 and headquartered in Clearwater, Florida, DocuWrx specializes in project management and workflow efficiency software designed to support the business needs of the Construction, Field Service, Manufacturing, and Retail industries.
To learn more about DocuWrx, visit www.docuwrx.com.
Source: DocuWrx Corporation
Share: