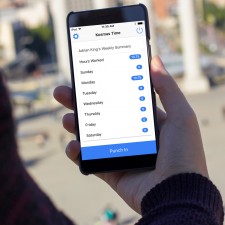 Small & Midsized Businesses Count on Kosmas Time for Efficient, Accurate Employee Time Tracking and Labor Reporting
Clearwater, Florida, March 10, 2017 (Newswire.com) - DocuWrx, a leading provider of business management and custom software solutions, has announced the release of a new, free mobile application for time and labor tracking, Kosmas Time.
Kosmas Time is the new time clock application for Kosmas subscribers. With the purchase of a Kosmas subscription, all employees with personnel records in the system have the ability to accurately record labor hours, cost centers and shift notes from anywhere with Kosmas Time. This means for only $49 per month, an organization gets company-wide access to this easy-to-use application on any iOS or Android mobile device. 
By utilizing Kosmas Time, organizations will experience the following benefits:
Accurate records of all employee and contractor labor
GPS-enabled time tracking shows the locations of workers when punches are made
Safe & secure storage of valuable data on the cloud
Monitor employee labor for total transparency and accountability 
With Kosmas Time, Employees can:
Easily clock in and out of specific cost codes by divisions, facilities, projects, orders or work tickets
Record activities performed during each time entry
Add notes about the shift to each time entry
Access Weekly Summary to review time punches from the current week
The easy-to-use time clock app turns any mobile device into a powerful tool collecting labor data in real-time. Time punches made in Kosmas Time automatically sync with Kosmas, using WiFi or cellular data, and includes GPS locations of workers at the time punches are made. This data can then be accessed by Kosmas Users, with the appropriate permissions, from anywhere at anytime (helping to comply with Davis Bacon and other laws).
Kosmas Time takes time tracking to the next level with how detailed it allows users to be with time entries. Users can document labor more accurately by allocating hours to the appropriate cost center. Cost centers are identified when the employee clocks into the specific division, facility, project, order or work ticket they are scheduled for. 
Kosmas Time allows employers across multiple industries to collect time using the devices employees already carry, without purchasing additional, expensive hardware. Owners get accurate time records and employees get an app that makes day-to-day life a little bit easier. Kosmas Time is without a doubt the most valuable, robust mobile time clock on the market today. 
For more information about downloading the Kosmas Time application, please visit www.docuwrx.com/kosmas-time/. 
Have questions? DocuWrx is here to help! Email the team at sales@docuwrx.com.
Don't have a Kosmas subscription? Kosmas is the premier all-in-one business management solution designed specifically for the construction and service industries. Find out more about Kosmas by visiting www.docuwrx.com/solutions/.
Source: DocuWrx Corporation
Share: